Ian Redpath-tour guiding excellence award
Congratulations to Ian Redpath for his recent award received from the Charles Sturt University for his excellence as a tour guide!
Ian Redpath is the owner of one of Ecotourism Australia's certified operators, Detour Adventures and an adventure guide taking guests off road in and around the Bathurst, New South Wales region. 
Detour Adventures has been a member of Ecotourism Australia since 2013 and they hold an Advanced Ecotourism certification as a responsible 4-wheel-drive tour operator.
Detour's origins date back to 1923, when a family coach tour business offered guests a full day adventure from Katoomba to Jenolan Caves.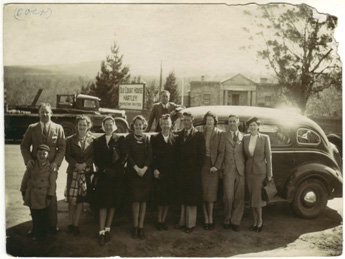 Detour Adventures offers professional 4WD off-road day tours in the comfort and space of a new Toyota Land Cruiser or as a tag-along tours, in your own vehicle, throughout the local National Parks and State forests and Blue Mountains.


Detour Adventures specialises in small group tours of up to seven guests, or if you prefer your own company, you can request a personal private tour. 

On the full day tours, guests enjoy a great lunch sitting by a quiet river or high on a mountain top and it offers a great day out for individuals, couples, and a group of friends or the whole family. 
Ian was born and grew up in the Blue Mountains of New South Wales, Australia, surrounded by the Australian bush. Now he takes visitors off-road to experience what he has been able to enjoy his whole life.
Ian has over 30 years of 4WD-ing experience (his first car was a 4x4) and he loves taking people out on Detour Adventures, sharing his stories with them and hearing about their lives and experiences as they travel off road, he is after all the King of the Long Way Round ®.
The award given to Ian was in appreciation for his excellence as a tour guide for the "Wiradyuri Nurambang Field Trip", a Cultural Immersion tour he operated in collaboration with the local Wiradjuri elders for the Charles Sturt University.
The Wiradjuri have called the tours Wahluu Cultural Tours. Wahluu was an Aboriginal warrior in this area and this name is the traditional name of the mountain commonly referred to as Mount Panorama.
A mutually-respected collaboration between Wahluu Cultural Tours and Bathurst Tours (an extension of Detour Adventures) and with the permission of Wiradyuri Traditional Owners Central West Aboriginal Corporation, a series of educational Aboriginal cultural tours has been brought to life. These highly significant educational and cultural tours are for the benefit of everyone to enjoy.
All tours are specifically created to allow their visitors to learn, respect and preserve the cultural significance of the Wiradyuri people of this area, hence no two tours are identical and the attendees will learn something new on every organised tour.
Wahluu Cultural Tours can provide cultural tours for solo travellers, couples, University students, school groups, and special interest groups of up to 20 people, who are interested in learning about the Wiradjuri from the Aboriginal Elders of the local Wiradyuri people.
For more information about Wahluu Cultural Tours please click here.
For more information about Ian Redpath, Detour Adventures and Bathurst Tours, please visit the following webpages:Detour Adventures & Bathurst Tours and follow him on Faceboook: Detour Adventures Facebook page & Bathurst Tours Facebook page

Photo credit: Detour Adventures webpage & Bathurst Tours Webpage
comments powered by

Disqus